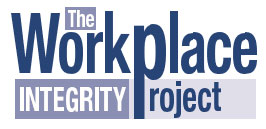 The Workplace Integrity Project is a division of the National Association for Shoplifting Prevention (NASP), a non-profit organization. Its launch broadens the current NASP offerings to include employee-focused education programs and services to maintain integrity in the workplace and constructively address dishonesty when it occurs.
The Employee Integrity Series includes:
Good Choices – New Hire Program (Future offering)
Everyday Choices – Honest Associate Refresher (Future offering)
Better Choices – Dishonest Associate Program (Currently available)
The WIP education programs, collectively referred to as the Employee Integrity Series, are a means to promote honesty and integrity in the workplace, help avoid acts of dishonesty altogether and handle such acts when they do occur, constructively.
Why Better Choices?
Every employer makes a significant investment in recruiting, hiring, and training their employees and all too often, the investment is lost when an employee is terminated for a poor decision – whether it involves a first time theft, policy violation or another act of dishonesty.
As the first offering in the employee integrity series, Better Choices was created to help employers maximize their investment in employees and provide each employee with the best opportunity for success whether in their current role or in future employment. Giving an otherwise good hire who makes a mistake a second chance, along with the guidance needed to make Better Choices in the future, develops both workplace proficiencies and life skills.
Corporate Social (CSR) Responsibility
In today's world, viewing team members – particularly youth and young adults – who commit acts of dishonesty through a new lens of social responsibility not only extends community relations and brand value, it fosters an internal culture of honesty and builds employee morale, well-being and loyalty. Offering education and opportunity, rather than focusing on punitive measures, ensures that a first-time mistake or lapse in judgement does not come to define a team member – either at work, at home or in the wider community.